Elvis Presley's Omega and other exotic timepieces head to auction
By kamakshi |
on May 24, 2012 7:37 am

Antiquorum Auctioneers is putting 269 timepieces under the hammer on June 12th in New York City. You can expect stunning pieces from Patek Philippe and Jaeger-LeCoultre in addition to an Omega Constellation owned by Rock 'n' Roll legend, Elvis Presley. Here are some exquisite pieces you can bid for. The Elvis Omega Black Dial Constellation Calendar is dated to 1960. The self-winding, center-seconds, water-resistant, stainless steel and pink gold-capped chronometer wristwatch sports a stunning black dial. It comes with an attested letter from Elvis' longtime friend, Charlie Hodge. This one is estimated between $10,000 and $20,000.
The auction's highlight sale is a Patek Philippe set in yellow gold. Dated to 2001, the rare 18-carat gold watch sports a one-minute tourbillon regulator, retrograde perpetual calendar, moon phases and a unique custom-made grey dial. It is expected to fetch between $450,000 and $650,000 .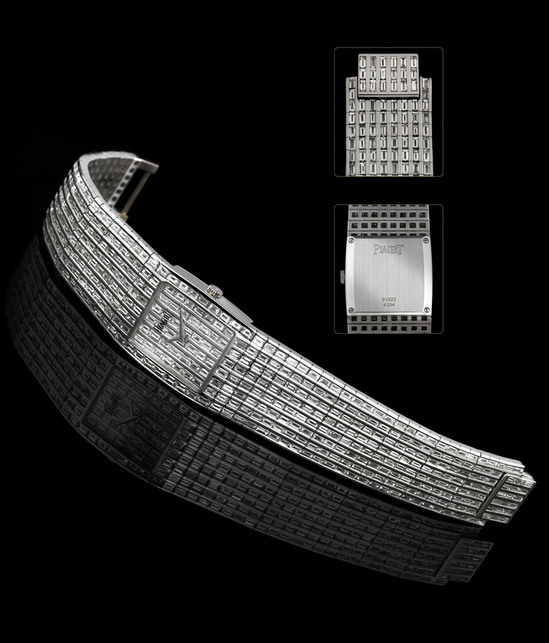 There is also Piaget Galaxy set with white gold and diamonds. Made in 2002, the arare watch comes with diamond-set 18K white gold bracelet watch, the case and bracelet channel-set with 456 baguette-cut diamonds (weighing around 51.9 carats), the dial set with 42 baguette-cut diamonds (around 6.2 carats). This stunner is expected to fetch between $120,000 and $180,000.

We round up our pick with the Ulysse Nardin's of Time Set of Three Extraordinary Platinum Astronomical watches. Limited to 100 units, the sets first came out in 2004. You stand to own a rare Astrolabium Galileo Galilei self-winding, water-resistant, platinum wristwatch; Planetarium Copernicus, a self-winding, water-resistant, platinum wristwatch with functions of the planetary cycle, days, months, zodiac signs and moon phases and the Tellurium Johannes Kepler another self-winding, water-resistant to 30m, platinum wristwatch with perpetual calendar, moon phases, signs of Zodiac, sun and moon eclipses, 24 hours, the view of the Earth as seen from the North Pole. The set is estimated between $80,000 and $120,000.
[
Antiquorum
]