Titanic's last lunch menu may fetch £100,000 at auction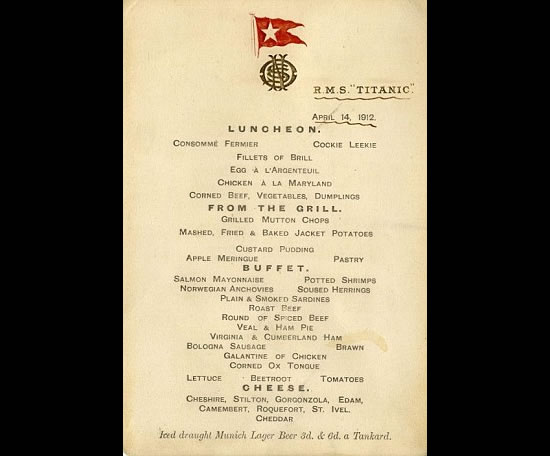 What would you give for a first class menu from the sunken disaster Titanic? Well, you will find out soon as the rare memorabilia goes under the hammer. Placed on the table of first-class passenger Dr Washington Dodge, his wife Ruth and son, Washington Junior, the menu is dated to April 14 1912. While the Dodge family survived the tragedy that consumed over 1500 lives, the menu also made it to shores safely inside Ruth's handbag. The menu offers over 40 dining options that include consommé fermier, egg a l'Argenteuil and grilled mutton chops. It gives a peek inside the lavish Edwardian society's lifestyle and food preferences.
The 'Star of the auction' menu card is said to fetch between £60,000 ($ 94,500) and £100,000 ($157,500). The menu will be auctioned by Henry Aldridge & Son in Devizes, Wiltshire, on March 31.
[
Metro
]