Pod House design is a hit with space saving rotating rooms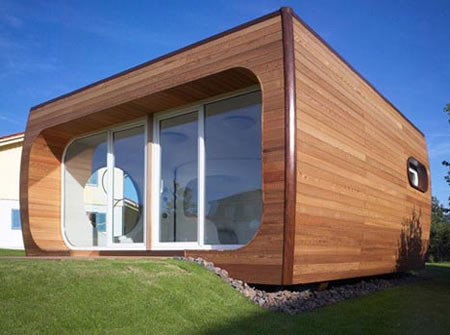 The Pod House by Hans Haus looks extremely sleek and classy from with outside with its wood exterior. However, this is nothing when compared to the spectacular interior of the house. The show stopper of the house is the rotating cylinder adjacent to the living area. This amazing 20 feet cylinder is nothing ordinary as it contains four rooms that can be rotated into view. It is controlled by a remote and this makes the bedroom, bathroom and kitchen dance to the tip of your finger.
Firstly, I'd just like to say that this looks uber cool. Secondly, it saves on circulation that is usually taken up by hallways and other support spaces. The rooms have a color theme that increase their aesthetic values that are further accentuated by the curved entrance. The Pod House design is a unique concept that has killer looks and saves space. It looks like a house straight out of a futuristic movie. I am definitely liking it.
[
Dornob
]