Aston Martin themed PC Case is handcrafted out of spare parts

Friendship Day is just around the corner. How far would you go to help a friend in need? While helping out is one thing. But going out of your way to build something extraordinary, just so you can is the kind of friend everyone wants. If you are wondering what I'm talking about, let me introduce you to Custom PC builder Derek Smith whose friend needed a PC, but couldn't afford to purchase a new one. So what did Smith do, well, he volunteered to put one together. But this Aston Martin themed PC is no ordinary system: it's an out of the world mod of a Cooler Master "Cosmos S" case. Sporting vinyl wrappings, and faux carbon fiber with a wood finish, it also features a backlit dash clock from a 2006 Mercury Milan.
The shining setup took 80 hours to build. The carbon fiber accents have been made using 3M Di-NOC Carbon Fiber with a matte finish, while the wood work is courtesy "Bubinga Gloss Wood Vinyl" Di-NOC from 3M. As for the insides of the cabinet, it has features a Stainless Steel roof flashing and Chrome side molding kit from an Auto Supply company. The PC's modified the AMD Quad Core Cooler with wood accents on top. The final product looks like a stunning Aston Martin which will just drive away!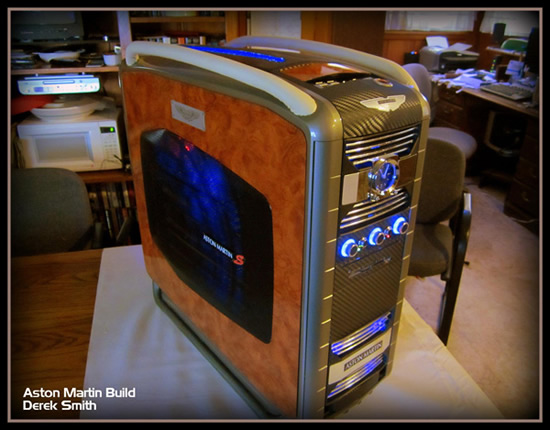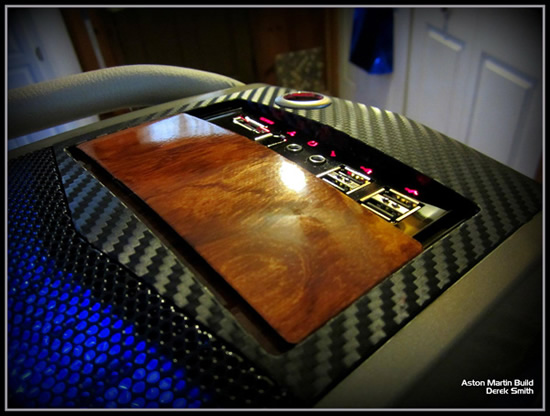 [
Kotaku
and
Mnpctech
]