Lamborghini launches gold-plated cell phones and a tablet for Russia

If the Chinese are treated with a gold Lamborghini then car-loving Russian gadget freaks are in for a mighty treat too. Lamborghini will soon put up its new range of luxury phones and tablet exclusively for the Russian markets. Though all the phones appear to flaunt a gilded body, the details are as follows. First up is a luxury feature phone named the TL688 Spyder. It sports a 2-inch QVGA display, and comes with a 3 MP rear camera with video recording, a front facing camera, 4GB internal memory and GPRS/EDGE connectivity.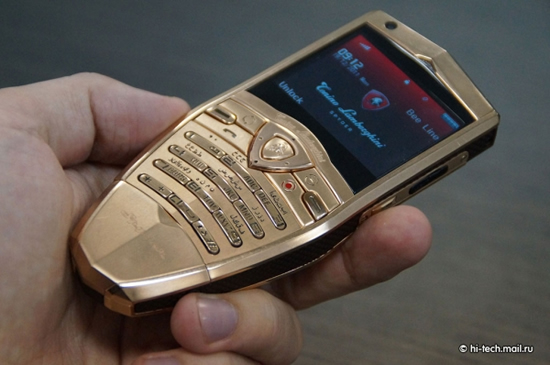 The second device is another feature phone, the TL820 Spyder 2. This comes with a 2.4-inch VGA resolution display, 5 MP rear camera and VGA front facing camera, 1 GB internal memory expandable up to 16GB and a 1,200 mAh battery. To up its luxury quotient, both phones come in a hand-made leather body and a leather back cover.
The third device is the Android-based TL700 running Gingerbread (Android 2.3).It features a 3.7-inch display with 800 x 480 pixel dimensions. It comes with a 5 MP back and VGA front camera, 4GB internal memory and a 1,400mAh battery. The phone sports a gold plated body, sapphire glass coated display and crocodile skin back.
Winding up proceedings for now is the Android tablet, L2800. Sporting a 9.7-inch screen with 1024 x 768 resolution display it is powered by a 1.2GHz Qualcomm processor, 512MB of RAM and 4GB internal memory. It also runs Android 2.3 but will get an Android 4.0 update soon.
The base price for the TL688 Spyder is 60,000 – 70,000 Russian ruble ($1,829 – $2,134). The TL820 Spyder 2 will be priced at 80,000 ruble ($2,438), the TL700 around 90,000 ruble ($2743) while the L2800 will cost you around 75,000 ruble ($2,286). Launch dates are yet to be revealed.
[
Complex
and
Gsmarena
]