Dunhill Shagreen Games Compendium is worth $50,000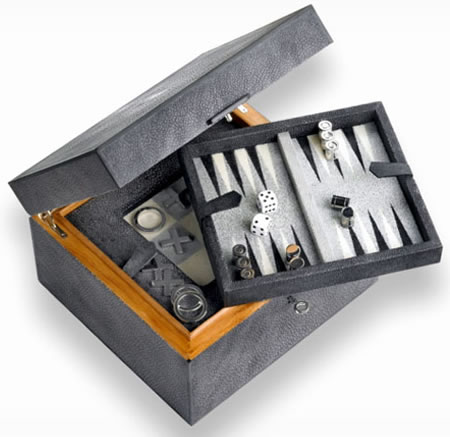 Playtime is all set to get luxurious for all you luxury loving gentlemen, courtesy London's esteemed luxury firm, Dunhill. The luxury goods maker has produced an exquisite games set that is sure to appeal to your luxury loving senses. Christened the Shagreen Games Compendium, this beautiful set draws its inspiration from some of the finest pieces in Dunhill's archive. Exclusively handmade for Alfred Dunhill by expert artisans, this beautiful games set is made from cedar wood and then covered in the very finest grey shagreen leather (derived from the skin of male rays) and trimmed with ebony with stainless steel hardware. The Shagreen known to be extremely durable not only gives an elegant finishing touch but also protects the set.
The games in this exquisite Compendium include shagreen-embellished chess, backgammon, noughts & crosses boards (all counters and pieces finished in sterling silver), while the bottom tray holds two packs of Dunhill playing cards, poker dice, bridge score cards and Dunhill pencils. What is more, Dunhill is also offering a matching watch or cufflink box in the same cedar, shagreen and ebony style and a limited edition fountain pen with an 18 carat gold nib and shagreen covered barrel with this exquisite Games Compendium.
A game compendium that will appeal to every luxury lover, it boasts of an expensive price tag of $50,000.
[
Justluxe
]