Frrrozen Haute Chocolate is the world's most expensive dessert for $25,000
By deepa |
on August 9, 2010 9:18 am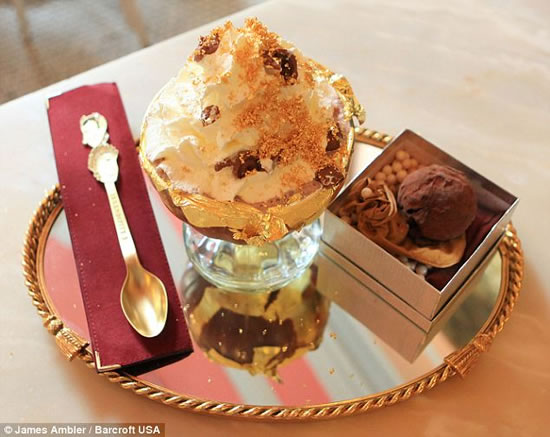 Who wouldn't want to dig in some delectable dessert after eating a yummy hotdog? And when some rich diner has just gobbled up the most expensive hotdog, only the most expensive dessert can satiate his sweet craving! Recently, we stopped by a New York's famous Serendipity 3 restaurant to report about the $69 hotdog. We are back at the same venue as it is in news for dishing out the most expensive puddings in the world. According to Guinness, the £630 Grand Opulence Sundae and the mind-boggling £15,730 ($25,000) Frrrozen Haute Chocolate are the world record-breaking desserts. Stealing the tag of most expensive dessert is the Frrrozen Haute Chocolate. It is served in a baccarat Harcourt crystal goblet with an 18 carat gold and white diamond bracelet attached to the neck. The goblet is further laced with 23 carat edible gold. The recipe includes Serendipity frozen hot chocolate mix that contains 14 rare and secret cocoas, 14 of the world rarest and most expensive cocoas from Africa and South America, milk, ice cubes whipped cream and shavings from the world's most expensive truffle, the La Madeline au Truffle ($2,500 a pound). Topping it with five grams of 24 carat edible gold, this opulent dessert is served with a £8,800 ($14,000) jewel encrusted spoon. The bracelet and the spoon belongs to the sweet-toothed customer who ordered this bejeweled dessert.
Serendipity's head chef Joe Calderone states that "
All profits from this dessert would go to children's charities in New York, so we are definitely looking for someone to come in, be generous and to enjoy the Haute Chocolate.
" DailyMail reports, "
Created by one of Serendipity's specialist chefs to order at your table, the Grand Opulence Sundae is available at 48 hours notice and the Frrrozen Haute Chocolate at a whopping two weeks.
"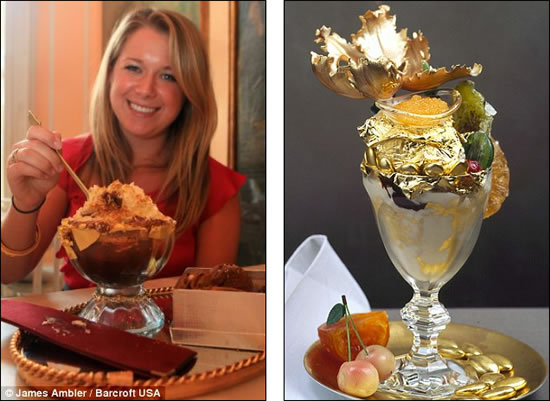 [
Dailymail
]