Most expensive Pizza from Malta's Margo Pizzeria
By shilpa |
on December 28, 2010 4:57 am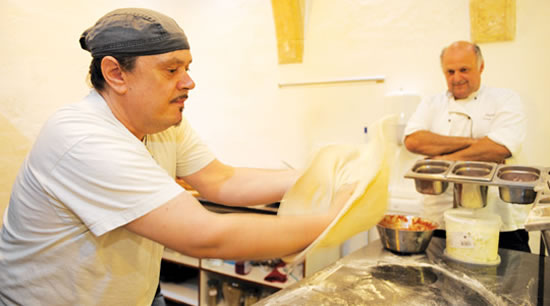 When the Pizza Royale came out with its champagne-soaked caviar and gold plate and a price tag of $4,982, we were shocked. But that was a one-off preparation and for charity. Now, Malta has launched the most expensive commercially sold pizza! It is 24-carat gold leaf and buffalo mozzarella and white truffles mounted on a thin traditional crust and costs $2,379.36. People are literally eating money! The idea sprouted with pizza-maker Giovanni Staiano and his boss and restaurant owner Claude Camilleri were testing and checking out some truffles. Giovanni joked that it would be cool to have a pizza made of truffles and make it 'vulgar' using gold leaf.
They did it and have two orders already. Giovanni made a 'masterpiece' with his recipe through which he wants to draw attention to the 'quality of food'. Apparently the price tag is this hot because of the price of
truffles which is currently being sold
at $8,602.49 per kilo! Camilleri's Margo restaurant, is vying for entering the Guinness Books of World Records with its expensive treat. Wonder who one buyer is (one is a hotelier)!
[
TimesOfMalta
]