Porsche unveils the 911 GT3 R Hybrid race car

Porsche has just announced its ambitious new beauty, the 911 GT3 R Hybrid race car. The amazing green car boasts of a unique system that utilizes an electro-mechanical flywheel system to store energy (a system that resides in what is traditionally the front passenger seat). The system works by capturing kinetic energy during braking at speeds as high as 40,000 rpms. The flywheel is used to store the energy, and can then unleash the power for a six to eight second boost of energy into two 60-kilowatt motors that are driving the front axle. Thus, giving the Hybrid, an all-wheel drive capability and a significant power boost that can be activated with the push of a button. The electric motors work in conjunction with the traditional 4.0-liter 480 hp flat-six that is driving the rear wheels. The most significant benefit according to the Porsche engineers however, is not the speed but increase in efficiency (especially during endurance racing).
The green car will make its debut at the Geneva Motor Show, after which it will participate in the Nürburgring endurance racing series in mid-May. What is more Porsche has hinted that this unique technology might be adapted for a street version car in the near future.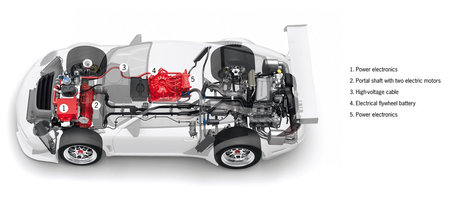 [
Leftlanenews
]